FORT WORTH, TEXAS - All Photos taken at Sundance Square in Fort Worth:  By Alan Mercer 
SEPTEMBER 10, 2017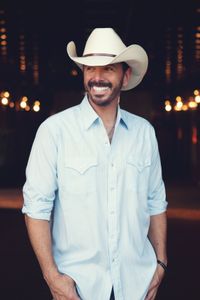 There is more to Derek Anthony than first meets the eye. Though primarily a musician, he is also an entrepreneur with several businesses and a strong advocate for various Cancer Charities. As far as music goes, Derek can best be described as a contemporary country style artist, with some traditional taste of country music embedded into his sound and feel.  He has always had a passion for music, instrumentally and vocally. From the age of six, Derek was singing songs from George Strait, Kenny Rogers, and Alabama, to Glen Campbell. In addition to vocals, Derek has played a wide range of instruments including trumpet, banjo, guitar, saxophone, harmonica, baritone, and piano. 
Growing up in St. Louis, he was deeply involved with music in the school system at a young age.  Derek attended Missouri State University.  His parents have always instilled in him a very strong work ethic and emphasized "go for your dreams."  For the past ten years, Derek has resided in Keller, Texas, where he started his own label and has been entrenched in the Texas music scene.  He is a regular at the world-famous Billy Bob's and has opened up for Pat Green, Josh Turner, Kansas, Sara Evans, Aaron Watson, Tracy Lawrence, Clint Black, Jo Dee Messina, and many others. 
Derek's live performances are high energy with extensive crowd interaction. His band "The D-Train Band" is one of the strongest bands in the country genre - a must see.  Derek is eager to broaden his musical career into the mass market appeal and produce memorable music that embraces emotion, fun, and touches the hearts of millions of fans. 
Derek's single 'Cowboy Way' was on radio for 26 straight weeks averaging 1000 spins a week.  'Cowboy Way' is also being played in AT&T Stadium at the Dallas Cowboys home games.  Once you hear the song, you will know why.  Derek's style ranges from country rock to a strong traditional ballad with a full range of vocals.  His style is what makes him unique. 
 The song 'Give It to Me Strait' was written with the concept of taking some of Derek's favorite George Strait songs and incorporating a George Strait title or lyric to fit just right into his tune.  The hook is about a couple not being honest with each other- just stop wasting time and "Give It to Me Strait".   Derek's silky traditional sound and creative lyrics makes you really listen for the references. 
Derek's latest EP titled 'Dreamcatcher 1' featuring such great songs as 'Change The World,'  'Man Up, Man Down' and 'What's Love Supposed To' with Holly Tucker,  is available for download now. 
Alan Mercer: It's easy to see the passion you have for what you do Derek. When did you know you wanted to be an entertainer? 
Derek Anthony:  I've known since I was six. I would sing in the back of the station wagon. It always seemed natural to memorize the words and sing on key. People say it's a gift and I believe it is. 
AM: I believe it's a gift as well. 
DA:  You are either tone deaf or you're not. (laughter) Now, what do you want to do with that? Does it make you feel good? When I'm having a bad day of events I come home and pick up the guitar and either sing a cover or do one of my originals or sometimes write a new song about how I am feeling that day. 
AM:  Did you sing in high school? 
DA:  I was in choir and high school musicals like 'Music Man' and 'Hello Dolly' as well as being the bass singer in a quartet. I have a theater and acting background. I was always interested in all the arts and back then it wasn't as cool as it is now. 
AM:  True. 
DA:  Now you have all these acapella groups and theater groups. I was going to major in music at Missouri State but when I went to sign up for the classes the woman asked me, "If I realized I would have to take four years of marching band for a music degree here at Missouri State?" I said, "Are you kidding me?" So, I changed my major to computer information systems. 
AM:  Even though music was in your soul? 
DA:  I played first chair trumpet for four years as well as playing sax, banjo and guitar. I was captain of the baseball team and I tried out for major league baseball teams. 
AM: Wow, you are good at so many things but it's all natural for you. 
DA:  It is. I'm always going full-throttle, 100%.  I just have a passion for life. I'm a serial entrepreneur. I've started six different companies just to pay the bills. I have my own recording label and I've had it for nine years. 
AM:  How did you even start that? 
DA:  I got the investors with the perspective I pitched. I got everything legal. In the music business, on the business side, you run out of money pretty quick. It's hard to separate the two sides of being an artist and the label guy. It's easy to get caught up in it like a drug. 
AM:  How do you feel about the Texas music scene? 
DA:  All us artists in Texas live in a great scene because we can play our original songs and the audience will like them. If you go out of state and play an original the audience screams to play Luke Bryan and Brad Paisley songs. 
AM:  You are gaining your own following more and more. 
DA:  I do feel like there's a movement of 80's and 90's Country music, which is my favorite genre, in the Nashville sound that includes some Country Rock and what I call Pop Country. I'm a hybrid of all that. 
AM:  You write most of your songs, don't you? 
DA:  Yes, I co-write with Randee Lee who comes from that classic Rock background. A lot of the guitar riffs are Randy's riffs. I love the idea of bringing classic Rock into either traditional or contemporary Country music. 
AM:  You have some of both types in your song mix. 'Give It To Me Strait' is pretty classic Country. 
DA:  That song is as traditional as it can get. It's in the pocket and I believe it's a home run song. 
AM:  Do you get frustrated when it becomes so difficult to get a record heard? 
DA:  I get frustrated because I don't have the team and the resources behind me as an artist. That's why you need Nashville or private investors. Any artist who has a hit song out there had some financial help getting over the hump. 
AM: You really need to focus on the capitol as much as the artistry. 
DA:  Like in any business that involves selling, you are selling a product. You have to market the product. You can't expect success to happen by itself. It goes back to the old adage of "It takes a village" so I'm in the process of building my village economically, fan-wise, behind the scenes, social media, YouTube, radio and all that. 
AM:  Tell me how you got the Dallas Cowboys to play your song at their home games. 
DA:  That took six months of effort. It sounds weird but I followed all the cheerleaders on twitter and I finally got to the two ladies that run the organization. I told them it was a big anthem Country Rock sing-a-long song. So, it got approved after six months by going to a committee. It's political like anything else. It's in the playlist but it's up to the DJ whether he is going to play the song or not. 
AM:  Have you got to hear it played at a game? 
DA:  I've heard it on TV a couple times in the background. I haven't been to a game yet because it's expensive. (Laughter) What I really want is a sponsor like Ford or Pepsi so I can play a half-time show. I have all these different things going on. 
AM:  How do you separate the natural tension of the "business side" from the more relaxed atmosphere of the "creative side?" 
DA:  It's a little bit like schizophrenia. I'm passionate on the business side in doing what's right for the brand but, I'm also a very sensitive person. If I believe in a cause then I will often write a song about it. I support six charities. I go and sing at the downtown Fort Worth Center for Cancer and Blood Disorder. I bring my guitar, no amps and I just hang out and give out free CD's. 
AM:  That is so awesome! 
DA:  It brings up the room for the nurses too. I'm a people person and I can gage who feels bad and who is going to sing along. I get a lift out of it even though I do it strictly for the patients and nurses. 
AM:  You must have met some lovely people. 
DA:  I did meet a seven-year-old named Bryce Aswell who has an inoperable brain tumor. He's normal. You would never know he is sick. I met his family and fell in love with this kid. I knew I wanted to do more. 
AM:  What were you able to do for Bryce? 
DA:   I have a relationship with the Texas Rangers so I sent them an email and said they had to meet this kid and his family. Would there be any way they could give him a day in the life of a Texas Ranger? I thought if he could meet a Ranger and get a souvenir pack, that would be great. I got an email 2 days later that said they were going to have Bryce throw out the first pitch! YES!!! 
AM:  So awesome! 
DA:  My wife and I went to the game with their whole family. It was awesome to hear the announcer say his name. We were on home plate and I was tearing up. That's what drives me. It's not beer or trucks or girls or tailgates, it's life changing memories. I'm not here to brag, I'm here to tell you what really motivates me. 
AM:  I understand, you are basically a serious person with deep thoughts. 
DA:  Yes, even though I am jovial and happy and even charismatic so I don't always come across as a serious person. Don't get me wrong, I like to have fun too. I write funny songs too. I wrote 'Don't Mess With PMS.' 
AM:  Derek your albums and EP are exceptional. I love every song on them. Did you release an EP because people don't release albums as much anymore? 
DA:  Yes, it doesn't help me to release some 13-song album every three years. Today, to stay relevant, it's all about the single. 
AM:  I love 'Change The World.' 
DA:  That song could be a hit. It's frustrating not the have the resources to lift it into mass market appeal. 
AM:  Please just keep doing what you are doing as long as it's authentic. 
DA:  I am the same performer if there are three thousand people or if there are three people. 
To learn more about Derek Anthony visit his web site https://derekanthony.net/.
Derek Anthony Goes After His Dreams  
All Photos taken at Sundance Square  
in Fort Worth:  Alan Mercer